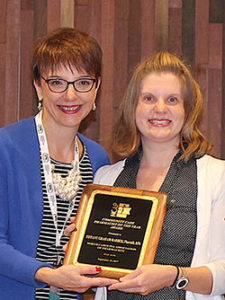 Congratulations to Mutual Drug Store Owner and Pharmacist Tiffany Graham Barber of Hillsborough Pharmacy & Nutrition in Hillsborough, NC for accepting the North Carolina Association of Pharmacists 2017 Community Care Pharmacist of the Year award.
The award was presented to Tiffany Barber, PharmD, RPh (right), by Ouita Gatton, Chair of NCAP's Community Pharmacy Practice Forum (left). The 2017 NCAP Annual Convention was held in Winston Salem, NC on Sept 22nd – 24th, 2017.
Blue Cross Blue Shield of NC also distributed 2016 Excellence in Pharmacy Awards to regional Mutual Drug pharmacies. Congratulations to the following Pharmacists:
TOP PERFORMER AWARD RECIPIENTS
College Park Pharmacy in Belmont, NC – William Thrower
Tyro Family Pharmacy in Tyro, NC – Russell Patterson
South Court Drug Company in Graham, NC – Kent Tapscott
TOP ACHIEVER AWARD RECIPIENTS
Marley Drug in Winston-Salem, NC – Dave Marley
Thomas Drug Store in Wilson, NC – Drew Wheeler
Top performers recipients are recognized by BCBSNC for highest medication adherence rates for non-insulin diabetes medications, hypertension medications and cholesterol medications. Top achievers were recognized as independent pharmacies with the greatest improvement in adherence across all three measures compared to the previous year.
(photo credit NCAP)